I read a great blog recently on why meetings can be tough to tackle on the BBC Business website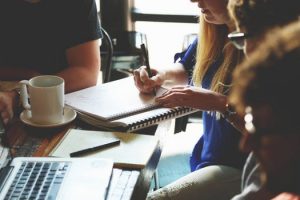 Everything from colleagues bursting in late, to nothing being decided, (think  classic 'W1A' BBC comedy for this!),  or endless handouts being passed round,  are all bound to have you snoozing in your seat.
And I've one more to add to the list……eating at meetings!
If there's free food on offer in the form of bacon butties at a breakfast meeting or a buffet spread at a lunch meeting, then it can be tempting to pop along on the chance of getting a free feed, especially if you're on a tight budget.
But do munching and meetings really mix?
I never munch at meetings
However amazing the spread on offer, when it comes to munching at meetings, I make a rule that I never eat.
Let's be honest, there's nothing worse than thinking you can take a big bite of a sandwich during a quiet moment, only to find the attention's suddenly back on you and everyone's waiting for you to speak!
Frantically trying to gulp down a huge mouthful of sandwich is never a good look quite frankly.  After all who could forget the classic Ed Miliband bacon sandwich eating incident a few years ago?
A 'working' sandwich
I was once invited to one of these.  Last time I looked, sandwiches certainly didn't do much in the way of work, but it was 'PR' speak for a casual lunchtime meeting.
I was invited along as I was about to work on a media campaign with one of the company's clients and we were chatting over the final details.  
Learnt my lesson that day as no sooner had I decided it was safe to tuck into a sandwich, than someone decided to ask me a couple of questions.  So cue much hand waving, silence around the table along with world record breaking eating!
Since then I've adopted the 'no eating' rule which seems to work quite well, though can mean you miss out at times.
Goodbye to afternoon tea
On another occasion I spent an hour hosting a round table event one afternoon with the most amazing spread of cakes and scones laid out over the table.  During the event I could see people around the table starting to tuck in, and the cake display rapidly diminishing.
Ok so I had been told that the event was very informal, but still, let's be honest, being caught with jam and cream round your face after diving into an overfilled scone is never a good look, however informal the event!
So liquid lunches all round for me at meetings from now on………