Waitrose is to trial a new delivery service which means you can have your groceries delivered and packed away while you're out.
Its 'While You're Away' service uses Yale smart lock technology, which means eligible customers can set a 'one time' access code for the driver, which is then deleted post delivery.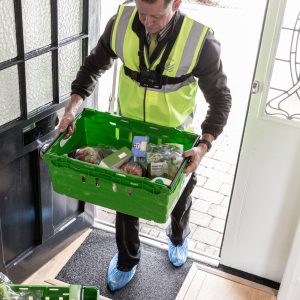 When I read about this idea, my first thought was how well it would go down with home insurers?   Surely giving a total stranger the code, (effectively the key), to your home and allowing them in when you're out, wouldn't go down well?
And yes, I know that all the drivers will wear a 'chest-cam' so the entire delivery is filmed, and customers can view the footage, but to my mind there's a whole list of potential problems with this idea.
How busy are you?
Most supermarkets now offer 'one hour' delivery slots and deliver 7 days a week, from around 8am through to 11pm, so is anyone really that busy that they can't manage to be in for just one hour to have their shopping delivered?
Pets
Pets would be a big worry in my book.  I'm not convinced our cats would take kindly to a stranger marching in, or more to the point, would they see their chance to make a bid for freedom and dash out while the door was open?
You can hardly expect Waitrose delivery drivers to take on the role of cat and dog sitter and be chasing pets around to shut them in different rooms so they can't escape.  And if your dog is a little territorial, how are they going to react when a stranger comes through the door?
Fridge etiquette
The deal is that drivers will stock your fridge and freezer, but leave the rest of the groceries on the side.  Now I'm guessing if you're happy for a stranger to come into your home and open up your fridge, then you won't be too fussed which shelf stuff goes on or how it's stacked?
And unless you leave specific instructions on what you want put where, then you may have to do a little fridge shuffle when you finally get home.
What about stuff you want to reject? 
We regularly get our shopping delivered, and with the sheer number of deliveries, there is the occasional torn bag, an egg that's cracked or something arrives with a super 'short shelf life'.
With a doorstep delivery, you can reject it and send it back for a refund, but if it's already been delivered and unpacked, chances are you may not even notice any problems until you come to eat the stuff.  And if you're not there to ask, then the driver is going to have to make the decision for you.
I'm all for anything that makes life that little bit easier but I'm not convinced on this idea from Waitrose.  But hey, who knows maybe they'll be inundated with customers queuing up to take advantage of this service post trial……..