Dining out on Valentine's Day may not be great for your bank balance, as you can't whip out any of the usual vouchers, deals or discounts to knock down the bill.
But there are some offers on the table and  I've been checking out the Valentine's menu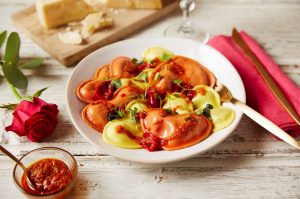 from Bella Italia which can be a real moneysaver.
3 courses with fizz for under £20
Bella is serving up a 3 course menu with a glass of fizz for £19.99 on its Valentine's menu.  For that you get a choice of 5 starters, 6 mains and 4 desserts, which includes a mix of some of the classic Italian dishes that are also on the main menu along with a few new ones that come with a romantic twist.
I've done the sums and dining out this way can save you over £10 compared with  standard menu prices.
Plus it's not just available on Valentine's Day, as you can snap up this deal from Saturday 9th February through to Sunday 17th.
What's on the menu?
As well as some of its regular dishes, there's also specials like heart shaped Ravioli Amore, (stuffed with spinach and ricotta and drizzled with Sicilian red pesto), or heart shaped Bruschetta, 
 (loaded with red peppers, onions and crumbled goats cheese), and a fabulous looking sharing dessert board.
How the savings stack up
Obviously the Valentine's menu is a fixed price so I've done my sums based on the price of some of some dishes that appear on both the Valentine's and  standard menu.
Most starters cost around £6, including Calamari and Chicken Wings, which are both options on the Valentine's menu.
Mains are usually around £12 upwards and once again there's a couple of the standard menu classics like Pollo Funghi, (grilled chicken breast with creamy mushroom sauce), and Polpette Americano, (spaghetti & meatballs in a spicy sauce), on the Valentines's menu.
Desserts come in at around £6 a pop on the usual menu including Tiramisu, usually £5.99 and Sicilian Lemon Cheesecake, usually £6.19, that are also on the Valentine's Menu along with a special 
'Quattro Dolcetti' sharing board, (pictured  on the right!) , which is for two people.
So tot up your 3 course meal and by the time you add in a glass of fizz, (standard price £5.99 for 125mls), you're looking at over £30 for three courses with fizz so worth going for the deal at under £20!