Budget and Boutique aren't two words you'd usually find together in hotel world.   In fact it's more like 'Cheap and Cheerful' when you think of the likes of budget hotels but having recently discovered Point A  hotels, I've got to say they're a breath of fresh air in the budget hotel market.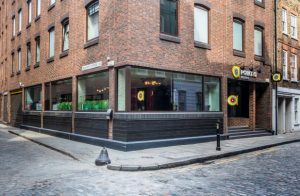 Right now there's six of them in London, one in Glasgow and two more in the pipeline with Edinburgh Haymarket and Kensington Olympia due to open in July.
I checked out the one just minutes from Liverpool Street Station and could happily have stayed the night!
Rooms from £50
Rooms at Point A start from £50, and £75 at the newly revamped Liverpool Street location.
Had a tour of the room and there's lots of thoughtful touches, like a safe in the room, mood lighting, plug sockets under the mirror, (which makes life easy if you want to dry your hair and actually look in the mirror at the same time, which isn't something lots of hotels think about!), and there's even a hidden secret garden for summer nights.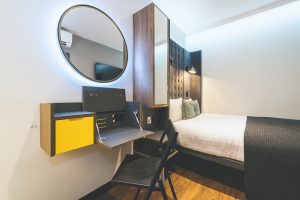 Ok so on the downside, there's no kettle in the room, and no bar to get a drink, though you can pay for a  cold buffet breakfast and buy drinks from the well stocked fridge at reception.
Join the A-List
All guests get to be 'A-List' members when they sign up online.  This is free and means you get 10% off your booking plus a whole heap of discounts in the local area which have been negotiated by the Point A team.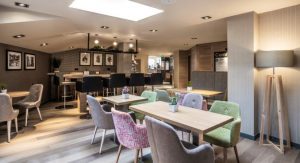 So if you're staying at Liverpool Street, the offers include a free bottle of wine at the local Carluccio's, 15% of drinks at the local Ten Bells pub, free use of the DW Fitness First gym.   And there's a 10% off deal at Blow Dry Express just round the corner.  Had the dream team of Andrea and Natalie doing my hair and they were great so well worth it for a night out, plus you can get 50% off simply by popping in 'off peak' during quieter times.
Teccy stuff
Ok so I know we all have different things we look for in a room.  Got to be honest  here, my husband rates a room on the size of the telly, so with a 43 inch Samsung Smart TV in all the rooms you  know you're not going to be stuck squinting at a tiny telly stuck somewhere in the corner.  Oh and there's free Wi-Fi in all the rooms too.   Is it time to unpack yet?