I'm a huge fan of eBay and over the years I've picked up a wonderful wardrobe of bargains.  Reckon my best one, (if we're talking value for money), has to be a lovely black and white Coast halter neck dress that I bought as a 'worn once' on eBay for just a tenner.
Wore it to a New Year party, followed by the Brit Awards, (yes was a very lucky girl that year!), dusted if off again for an awards bash and then sold it back on eBay for £25, so I even turned a profit!
Another of my favourites are these fabulous shoes from Dune which were brand new and boxed and I picked them up for under £20 whereas Dune shoes are usually around £50 plus.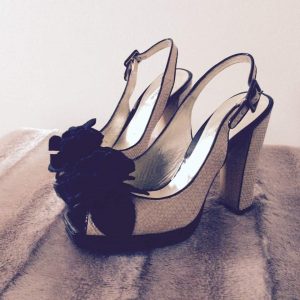 Not only can eBay be a little goldmine when it comes to picking up clothes and shoes at a snip, don't forget you're doing your bit for the environment too with a spot of recycling!
So here's my top tips on how to hunt down some bargains!
Be size savvy
I only ever buy brands where I know my size inside out.  This way there's less chance I'll buy something that's too big or small and waste my money.
Damage limitation
I go for brand new or 'worn once' items as this way there's less chance of finding a snag, pull or scuff.
While I've always found sellers are very honest about any faults, can be easy to overlook a tiny snag, so unless something's advertised as 'brand new' I usually always mail the seller and ask if there's any 'snags, rips or pulls'.
Means they'll usually give the item a second check and if they say no, means you know you can return it for a full refund if it arrives in less than perfect condition.
Jack the jeans
Personally I never buy jeans on eBay even if they're brand new.
My theory being, even when you know the size, style and cut you like, designs change and I find it tough enough finding the perfect pair of jeans on the high street when you can try on hundreds of pairs, let alone when you've narrowed down your choice to a couple on eBay!
Buy doubles
If you spot another version of your absolute favourite dress, top or whatever on there in your size, snap it up!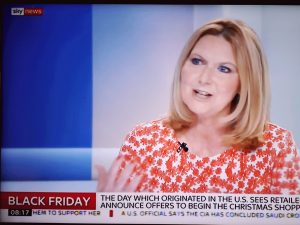 Wear & recycle
I often buy, wear and sell items back again especially when it comes to telly clothes, aka this little red flower number I'm wearing on the right on Sky News.
And even if I don't make a profit, chances are I can still end up with a dress that's come in at a very cheap 'cost per wear' rate.
The golden rule of course is be honest.  If you buy something that's worn once, you wear it a couple of times and flog it back, just say 'worn just a few times' and be honest with the state it's in.