I've just got back from a trip to New York.  I absolutely love the place and it was my fifth trip to the Big Apple.  You can very easily spend a fortune in the city that never sleeps, but I've come up with some travel swaps and tricks so you can see the sights and save money.
Statue of Liberty
You can take a trip to Liberty Island for a close up view and if you book far enough in advance, get a ticket for the climb to the Crown.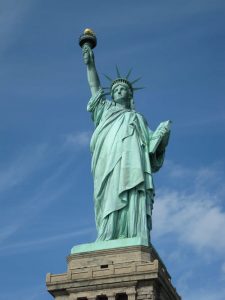 Tickets cost from $18.50 for the ferry trip, pedestal access and the new museum, (which opened on 16th May), along with Ellis Island for the Immigration Museum.
Or it's $21.50 if you want to add in the climb to the Crown.  I booked our Crown tickets four months in advance and we got the first boat of the day at 8.30am, to avoid the crowds, which paid off as we were the first people to reach the Crown.
Savvy free tip…..
If you're booking tickets do book through Statue Cruises as they're the only official and authorised ticket company for trips to the Statue of Liberty.
Or for a free view of Lady Liberty jump on the Staten Island Ferry which runs 24/7.  It's near Whitehall and South Ferry subway, totally free, and takes around 25 minutes.  Once you're on, head for the top deck and stand on the right as  you leave Manhattan for the best shots.  Then just hop off the other end and come straight back.
Skyline views
You can head for the top of the Empire State Building for an amazing view of the city, but I prefer the Top of the Rock at the Rockefeller Centre, which is where I took the snap below.  Tickets are  cheaper, it's less crowded and this way you get the iconic Empire State Building in your shots.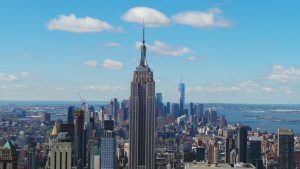 Savvy free tip…..
Or for a free view, you can book free tickets to climb The Vessel  It's New York's newest landmark at Hudson Yards.
Not for the faint hearted as it's nearly one mile of vertical climbing with 154 interconnecting flights of stairs, 2,500 steps and 80 landings, but the pay off is  some great views over the Hudson River.
Cheap harbour cruises
The Circle Line Cruise will take you all the way round Manhattan but set you back $44.
Savvy moneysaving tip……
For a  cheaper option, hop on the New York Ferry Service  A ticket costs $2.75, just over £2, with routes including the East River trip from 34th Street that makes several stops in Brooklyn including a stop right by the Brooklyn Bridge before heading for Pier 11 & Wall Street.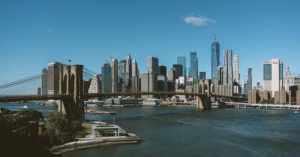 Or go for the 'Soundview' route, where you can jump on at East 90th Street and take the ferry all the way down the East Side of Manhattan to Pier 11.  Ok so  you won't get a commentary but it's much cheaper and far less touristy.
Broadway shows
A ticket to a Broadway show can easily cost you well over £100 but you can bag 'on the day' tickets with big reductions from the TKTS booths in both Times Square and South Street Seaport.
Savvy moneysaving tip…..
We went for the South Street Seaport one, as it opens at 11am, that's around 4 hours earlier than the one in Times Square, and we found much shorter queues there.  Plus you can book matinee tickets a day ahead here which is an added bonus.   Our tickets for Beetlejuice cost $88 each, which was exactly half price and we were just 7 rows back in the stalls.
But for what's probably the cheapest ticket in town, head for Ellen's Stardust Diner on Broadway.  For the price of a bagel you can sit back and watch the show as the waiting staff sing, dance & perform showstopping numbers from all the big musicals to entertain you.  Hugely popular and has big queues from lunchtime onwards, so we got there at 8am for breakfast.  Of if the line's too long, try Gayle's Broadway Rose  which has just opened up on 8th Avenue with entertainment while you eat.  Didn't get a chance to go there but it's had great reviews.
Snap up a Subway ticket
I've always used the Subway as I reckon it's the easiest way to get around and see as much as you can plus it's much kinder on your feet!
Savvy tip…..
A single ticket is $2.75 however far you go, but if you're sticking around for a few days then an 'unlimited' card at $33 is the best deal.   As a rough guide you break even once you rack up 11 subway trips and we managed 20 in just five days.