Ever found hiring a car on holiday can seem more like playing the lottery?
All too often it can seem nothing more than a game of  'pay your money and take your chance'.  And no I'm not harking back to the chap I once hired a car from in Malaysia many years ago who told me 'you drive careful' when I asked about the insurance deal……..
Since my Malaysian experience, (and luckily both the car and I made it back in one piece), I've hired cars in heaps of places around the world.  Driving through the backstreets of Marrakech was certainly an experience……..but when it comes to the good guys of the car hire world, I've never found anyone who can even come close to Dimitris Rent A Car  which is based in Kefalos on the Greek island of Kos.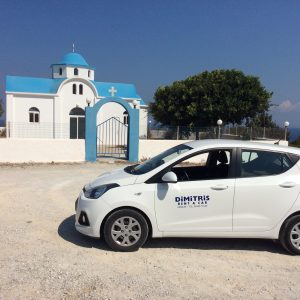 Sadly the world of car hire isn't always as good as Dimitris and his family, and yes that's a shot of one of his cars that we hired our last trip.   All too often it seems it's the big players in the world of car hire who can be the hardest to play ball with, especially if things go wrong.
The big car hire companies including Hertz, Europcar and Sixt have been told to clean up their act after the CMA, (Competition & Markets Authority), took five of them to task when they were told to be clearer about their pricing and charges.
So before you grab the keys and jump in your hire car, here's my top five tips to save you a bumpy and costly ride.
Check the paperwork
Ok so a trawl through the small print isn't the most fun thing on the planet especially when you've just arrived and want to head for the beach, but a few minutes reading can save you a whole heap of cash in the long run.
Beat the insurance 'hard sell'
If you're collecting your car from the airport, chances are you'll be given the hard sell on extra insurance.
'Excess waiver' is usually the one most companies try and flog and it's not cheap at around £20 a day.  Saves forking out the 'excess' if you have a prang, (which with some hire car companies can be as much as £1,000 even for the smallest scrape), so I always buy this before I go.
Buy before you go and you'll pay around £2.99 a day, rather than the £20 airport deal, and you can shop around for the best deal through TravelSupermarket
Turn your car into a movie star
You should be shown round the car and get the chance to point out any damage, but let's face it, you may not spot every last tiny nick and scratch on the spot.
So whip out your phone and take a quick video round the car as proof of the condition it's in before driving away.
The fuel factor
Some companies like to bill you for a full tank, which can come with a hefty surcharge, so check the fuel deal as it can be a deciding factor in who you book with.
I go with the ones where you're just asked to bring it back with the same level in the tank.
The drop off deal
Take the car back on time.   If you're late, you could be billed for another 24 hours.
And make sure you know exactly where to park, as if it's out of hours, there may be nobody around to ask.  I once got billed an extra five Euros in Gran Canaria after parking in the 'wrong' space at the airport when we dropped the car off at 5am and couldn't find the 'right' parking spot!