I've just got back from a trip to Malta, a place that's literally bursting at the seams with a rich mix of history, culture and sights.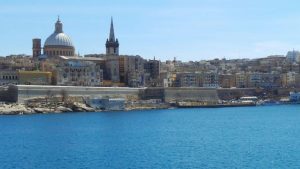 This small archipelago of islands sits between Sicily and North Africa and at times I did feel like I'd stumbled on to a film set as there's a definite Mediterranean facade combined with backstreets reminiscent of Cairo and Marrakech.
Here's a quick run down of 5 things to do without breaking the bank along with some of my snaps.
Take to the water
We were staying at an Airbnb in Gzira, and yes the shot below really was the view from our balcony!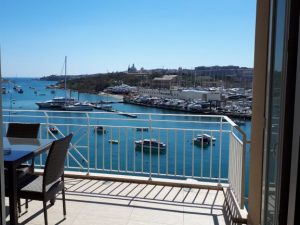 It was a great location as we were just ten minutes walk from Sliema, which is the jumping off point if you want to get a ferry to the Valletta, which is the capital city.
You can of course catch the bus to Valletta but taking to the water means great views plus it's only 2 Euros 80 return with boats every half an hour and late night crossings during the summer season from June.
Explore the backstreets of Valletta
It's one of Europe's smallest capital cities and while you'd be hard pushed to get really lost, do nip down the side streets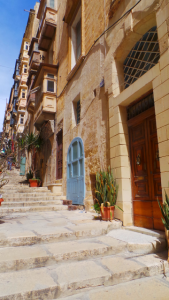 and take some of the back routes, (though be prepared for plenty of steps!), for a taste of the real Valletta
Loved Caffe Cordina on Republic Street which has been a family run business since 1837 and housed in an old Palazzo.   Step inside and it feels like you've gone back in time, and from the look of the place you think it might be expensive but, it's speedy table service and an apple cake and latte only set me back around  £5.
Hop on a bus
The buses on Malta are no longer the brightly coloured ones you used to see, so unless you spot a tourist version running a tour, don't be disappointed if they look very similar to your average bus.
But it's a super efficient service and cheap!  Costs just 1 Euro 50 however far you go, even if you change buses, plus you can use your ticket for up to 2 hours.
So you could always go for a short hop along to coast to explore some other bays, enjoy a glass of wine and get back from around £1.
Fares do go up slightly during Summer, (from June), to 2 Euros.
Don't leave without seeing Mdina
This walled city was the capital of Malta until 1530 and if you're a Game of Thrones fan you'll recognise the main gateway into the city.
Known as the 'silent city' it now houses around 200 residents with tiny restaurants tucked away down tiny side streets.
You can get some amazing views across the island from the top of the city walls and it's totally free to go in and wander round.  And buses stop just five minutes away.
Lots of people see Mdina and head off but make the time to wander to Rabat where you can go into St Paul's Catacombs for under £5.  However we're talking trainers for this trip and do watch out as some of the railings down into the catacombs are rather wobbly and the lights go out from time to time so take a torch!
Pick up some Pastizzi
As a cheese lover I could happily have eaten these pastries every day of the week and did manage to do so most days for breakfast!
Pastizzi are a Malta speciality and a yummy snack of puff pastry filled with goats cheese.  Plus they're super cheap too at under a Euro from most bakeries or street stalls.