Booking holiday hire car can sometimes seem like a lottery when it comes to weeding out the good guys from the rip off brigade.
So having written a fair few pieces over the years about the 'problem' side of car hire, I wanted to share my experience of how car hire can be done well.   And to say 'well', is doing this company a disservice as it's not just doing it well, but five star well, amazing and immaculately well, and all topped off  with super friendly service too.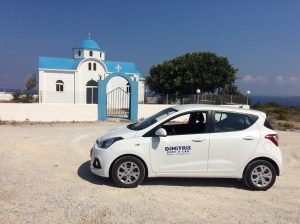 I've recently got back from a trip to the Greek island of Kos.  It's a beautiful island, I absolutely love it and while some parts are known for a bit of party lifestyle, we always head for the laid back village of Kefalos.
And we always book our hire car direct with Dimitris Rent A Car   It's a family business, based in Kefalos, and run by Dimitris and his wife Maria, who are two of the most friendly and welcoming people on the planet.
Super clean cars
I've got to start by telling you how clean these cars are.  They're not even super clean; they're absolutely immaculate; both inside and out.   I have no idea what Dimitris uses to clean his cars, and I've often told him that they're the cleanest hire cars I've ever seen.
I reckon he must use some kind of 'dust repellent' on them as however much Greek dust you drive through, they still come out looking clean!  We'd had ours the best part of a week by the time we took this snap and as you can see it's still looking good!
Easy to read contracts
Now while my smattering of Greek means I can get by ordering drinks in a bar and ask for the bill, I'd be seriously in trouble if I had to translate a hire car contract.
But easy enough as here the contracts are written in both Greek and English so you don't having to worry about missing anything and it's all super straightforward and easy to understand.
Forget bumped up fuel bills
Some hire car companies insist on filling the tank and whacking on a surcharge before they'll hand over the keys.
But not with Dimitris, it's all done on trust.  You check what's in the tank as you drive off and make sure you return it with the same amount.
Goodbye to airport surcharges
Some companies try and add on a surcharge for nearly everything.  Want to collect  your car from the airport?  That will cost you more.  Want to drop it back at the airport?  That can bump up the bill again.
But here's the deal with Dimitris Rent A Car, no hidden extras or charges; you pay a flat daily rate with all the prices clearly listed on the website.
Rates & deals
Prices start from a very reasonable 20 Euros a day and insurance is included, so no hidden extras, or push for any more cash.  And you get a free road map and 24 hour breakdown cover as part of the deal.
Hand in the keys
Once you've handed in the keys or finished up for the day don't leave Kefalos without popping into the Acropol bar on the harbour road.  Just a couple of minutes walk from the hire car office, it's owned and run by Dimitris, Maria and the whole family and it's a great place for watching the sun go down with a beer in your hand or enjoying a cocktail or two.  And make sure you try Maria's Mum's lemon cake too; it's beyond amazing!