Just spotted Aldi's ' Retro Vintage Turntable which has got to be a winner at just £29.99.   Especially when I reckon it's so 'super similar' to one I spotted at Urban Outfitters at £128.99.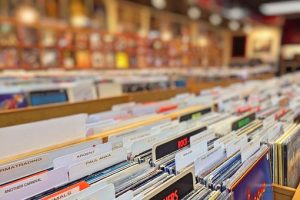 Aldi's version comes in lilac, cream, grey and a fabulous floral design.
It's got a three speed turntable for everything from 7″ up to 12″ and comes all packed in a handy little portable case with built in speakers and a three year warranty.
 It's available in store only and on 'Specialbuy' which means once it's gone that's it.  So if you want to save yourself £99 and get a great portable turntable into the bargain, you'd better be quick!