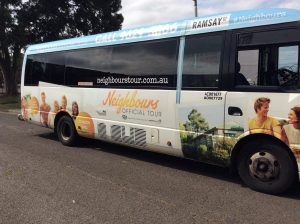 Melbourne is a stunning city and I've been lucky enough to go there twice so here's my tried and tested tips on ways to make the most of it without going for broke.
Free trams
Hopping on a tram makes for a super easy way to get around the city and they'll take you out to the suburbs like the beachside resort of St Kilda too.
Make the most of the free tram zone that covers the city centre and means you can hop on and off at all the major sites.
Or take the more touristy but eye catching City Circle tram. Once again totally free with stops near all the major sights including Old Melbourne Gaol, Flinders Street Station and the Melbourne Aquarium plus the shopping delights of Bourke Street Mall, the Block Arcade on Collins Street and the Queen Victoria Markets.
Venturing beyond the 'free' tram zone? You'll need a Myki  card which costs $6 and pre-load it just like you would an Oyster card.
Fairy Penguins
One of the most popular trips out of Melbourne is to Phillip Island to see the Fairy Penguin parade at sunset. While the sight of all the little penguins swimming to the shore and finding their way home to their nests is amazing, it's a long and expensive day trip and can be very touristy.
So I'd suggest heading for the St Kilda breakwater at sunset where you can watch the penguins swim home to their nests in the rocks for free.
Pop in to Ramsay Street
If you're a Neighbours fan make sure you head out of the city to visit the real life 'Ramsay Street'.
The guys at Bunyip Tours  organise a great tour and if you book a weekend trip you'll not only get to see the real life Ramsay Street, aka 'Pin Oak Court' but also get a 'behind the scenes' tour of the exterior sets at the Nunawading Studios complete with backstage gossip, (especially if you get Gerry as your guide!), and photo opportunities outside the Lassiters complex, Harold's Café and Fitzgerald Motors. It's an amazing trip but will set you back $79 while the 'Street Tour' is $59.
But for a budget trip jump on public transport and see the street for yourself. Pin Oak Court is in the Melbourne suburb of Vermont South so you can catch the train from Flinders Street Station to Glen Waverley, jump on a bus to the top of Weedon Drive and third of the left is Pin Oak Court.