Valentine's meal deals are popping up with M&S, Tesco, Morrisons and Asda all launching one. But aside from supermarket offers, Bella Italia's Valentine's meal deal is one of the first 'restaurant' ones I've spotted so far this year so I thought I'd check out if it's good value.
Bella's deal costs £19.99 per person for three courses, (drinks are extra), and runs from 13th – 16th February.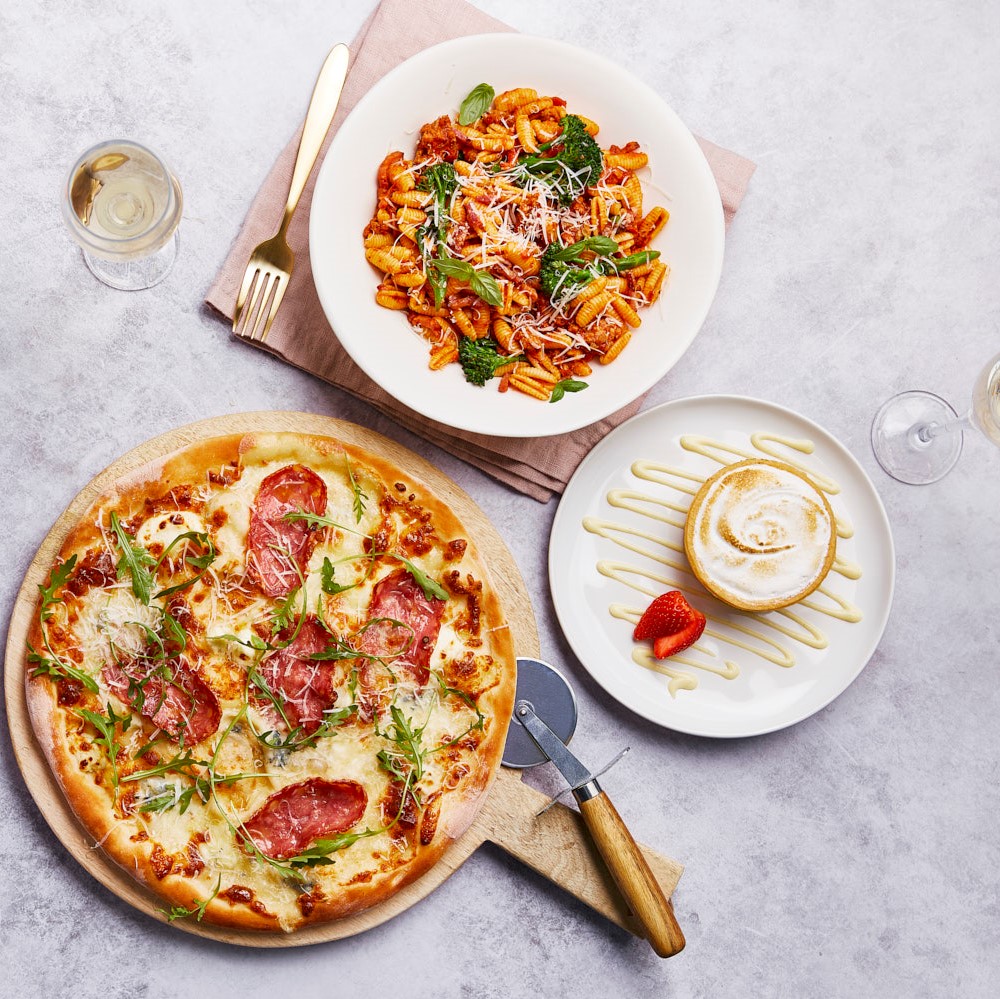 What's on the menu?
At first glance its Valentine's menu looks like a cut down version of the standard one with a smaller choice of five starters, six mains and four desserts. I spotted just a couple of different ones thrown in including Salami Dolcelatte Pizza and Lemon Meringue Pie.
For starters the choice includes Bruschetta, Whitebait and Insalata Caprese. Mains include a choice of pizza, pasta and risotto with Tiramisu, Cookie Dough Al Forno and Gelato among the desserts.
Now the Valentine's menu can vary slightly depending on where you go. At Newcastle, Northampton and Exeter, I spotted steak on the menu, (for an extra £3), but no steak on the menu if you're dining in Milton Keynes.
How does the deal stack up?
I totted up the price of three courses from the Valentine's menu compared with the same option on Bella's standard menu.
Bella's three course Valentine's Meal Deal costs £19.99 so you can save up to £6.67 if you go for the most expensive dish for every course. But if you happen to like the cheapest one, you'll only save £2.27.
Trick to get 2 courses for £10
Ok now Bella's Valentine menu does include three courses, but if like me you'd struggle to get through three courses and just fancy say a starter and main, I've found a trick that saves nearly £10 compared with the Valentine's offer and it's done by snapping up a voucher for '50% off main courses' from the 'offers' section on the website.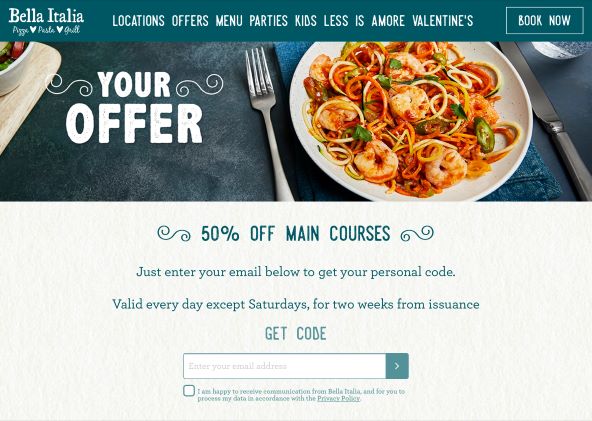 Pop in your email and you'll get a code that lasts two weeks from the date of issue. Right now that takes you up to 8th February and if you hold out, in a few days time you may be able to download a code that lasts longer. Clearly as with any deal, this could disappear from the website, especially if Bella's keen to promote it's 'all in' £19.99 deal.
But if you don't mind celebrating Valentine's Day a few days early, this way you can choose a two course meal off the main menu for £10.38 per person after the discount, which saves over £9 compared with the Valentine's three course meal.
How you do it…..
To pay just £10.38 a time you'd need to go for the cheapest starter on the menu at £5.99, (and I've counted five to choose from), along with the 'cheapest' main which means two choices; either Pomodoro spaghetti with tomato sauce or a Margherita pizza as both cost £8.79.
And for the ultimate test, if you choose two dishes from the standard main menu, (that also appear on the Valentine's Menu), like the Whitebait at £5.99 followed by the Campagna Pizza (goat's cheese, peppers, onion, pine nuts etc) at £10.29 you'll pay £11.14 per person (after the 50% main meal discount), meaning a saving of £8.85 just for for going without a pud.
And if at this point you decide you really can't manage without a dessert; well you still won't be out of pocket. The most expensive individual desserts on the menu are just £6.29 so add that on top of the £11.14 bill for two course; comes to £17.43 so you're still £2.56 in hand.
Small print stuff
I've checked out the small print, and the code can only be used once, so both you and your Valentine's date will need to download a voucher from the website and may even need to pay separately.
As you'd expect there's a few t&c's too so you can't use the 50% off vouchers on a Saturday, or alongside any other special offers or at certain locations that are all listed including airports.