Nice may look pretty fancy but there's plenty of ways to see the sights and save money.  I've just been there to see a friend for a couple of days and absolutely loved the place.
And it's easy to get there.   It was just a two hour easyJet flight from Luton and if you jump on the number 98 bus at Nice airport, you can be on the beach in around 10 minutes.
I've always been a cabin bag kind of girl, (unless my hold luggage is included in the ticket price!), and if you're happy to travel light, then I reckon Nice has got to be one of the easiest weekend breaks in terms of speedy arrival so you can enjoy every minute and won't waste several hours trekking to and from the airport.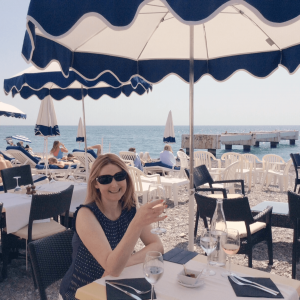 So here's my tips on making the most of your time and saving some cash along the way….
Getting into town
Pick up the 98 bus at the airport which goes all the way along the seafront, or Promenade des Anglais to give it its correct name and it'll set you back just six Euros.
Nice airport is so close to the centre of town that you could actually walk it.  Yes it saves money, but unless you're happy to do around an hour's walk in the heat and got super small cabin luggage youmight regret it.
See the Statue of Liberty
Yes, I know, I haven't got my countries muddled up.  You really can see a smaller version of this iconic statue outside the Opera House on the Quai des Etats-Unis.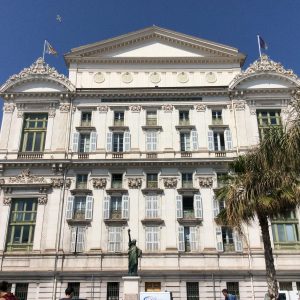 In fact most people miss it, as it's not that big, (around four feet high), but well worth stopping to take a look.
And in case you didn't know, the designer of the world famous statue was French; one Frederic-Auguste Bartholdi.
Best view over Nice
Head for Castle Hill if you want a stunning panoramic view over Nice.
You can climb the steps or get a free ride in the lift, which is slightly hidden away, but saves your energy in the heat.  Long story, but don't expect a castle at the top as that's long since gone but it's a beautiful area to wander round with views over Nice and you can see the port from the other side.
Most people take their snaps from the top but if you head down a few steps to the waterfall you can even get the view all to yourself.
Explore the old town
Half the fun is getting lost in this labyrinth of narrow streets packed with shops, cafes and squares with open out to reveal some stunning churches.
Stop for ice cream at Fenocchio  which has two sites in the old town.
This family run ice cream place has over 80  flavours, from the rather unusual ones like Cactus, Poppy, Beer and Avocado to some truly yummy ones with my favourites including white chocolate, both honey and nuts and Baileys.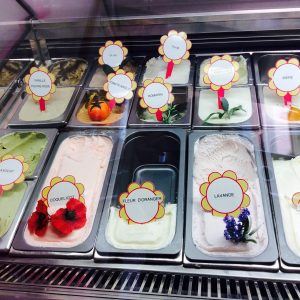 Yes at two Euros a scoop it's not cheap, but worth it, and if you pick up a crepe or galete for a couple of Euros, you'll have a cheap lunch.   Or pick up some pastries from the Moulin de Flor bakery.
Food & drink
Plenty of restaurants to choose from if you want to eat on the beach.   One of my favourites is Sporting restaurant and beach  But while it's great with  delicious food and great service, you will pay for the experience so if you want to save money you'll have to be prepared to swap that lunchtime beach view.
So why not pick up some snacks around the Cours Saleya market as there's plenty of pavement cafes there.  Or for authentic and delicious tapas style finger food, head for Rene Socca, which is tucked away in a backstreet in the old town near Garibaldi Square.  We shared several dishes, had a couple of glasses of wine and still had change from twenty Euros.
Watch the world go by
Nice is a fabulous place to watch the world go by.  Plenty of free seats along the Promenade des Anglais, so you can stop and take in the views, take some snaps of the iconic Negresco hotel,  (or pop in for a drink if you can afford it), or go and sit on the beach.