Prague is a stunning city but there's lots of ways to see the sights and save money.
I've made a one minute video version below or read on for my top five moneysaving tips.
Getting around
If you want to use the city's buses, metro or trams you can buy a 30 minute ticket for 24 Czech Koruna, that's just over £1.  Or if you want a longer trip; go for the 90 minute version at around £1.50 or an all day pass that comes in at around £4.
Getting from the airport into the city is cheap and easy. We took the 119 bus from the airport to Nádraží Veleslavín and with two short metro trips we were in the centre of the Old Town within an hour and all for around £1.50 which is the price of a 90 minute ticket.
Plus these 'all in' tickets work on Prague's Funicular Railway too, which is worth a trip, and takes you to the top of Petrin Hill  for some stunning city views.
Prague Castle
Well worth a visit and it's actually free to get into the Castle grounds and gardens H But if you want to go inside the Old Royal Palace or get further than the entrance of St. Vitus Cathedral you'll need a ticket.
Ticket prices start from around £3 for the Castle Picture Gallery up to around £15 if you want one that gets you in pretty much everywhere.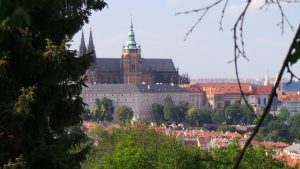 We went for 'Circuit B' which costs the equivalent of £10 and gets you into four of the main sites including both the Cathedral and Old Royal Palace.
And getting there is easy.  Hop on the number 22 tram that takes you to within a five minute walk of the Castle.
Free tours
Tours can eat into your  holiday budget so why not take a free walking tour of Prague.
These free tours meet every day at the bottom of the Astronomical Clock in the Old Town Square.
Rooftop views
If you want rooftop views over Prague you can head for the Old Town Hall Tower but you'll pay 250 CZK for the view; which is around £10.
We escaped the crowds to enjoy both views and beers from a different angle at the T-Anker bar  This hidden gem is on the top floor of the Kotva department store, just a five minute walk from the Old Town Square.   Plenty of beer to try but I'd recommend their own one which works out at just over £2 a pint.

Cheap eats and drinks
In case you didn't know, the Czech Republic is famous for its beers, so worth popping by the Prague Beer Museum  to sample the local brews as they've got 30 different ones on tap.
You can order a selection of 'taster' sizes of the  local brews as well as the full sized versions and there's plenty of snacks including some delicious fried cheese that won't break the bank.