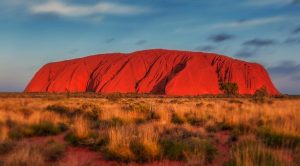 Taking a trip to the red centre, the spiritual heart of Australia and home of the mighty Uluru, (Ayers Rock), is beyond amazing.
I've been lucky enough to go there twice, and if you're in Australia, it's a trip well worth making even if it's not a cheap one.
Whether you fly, drive or book a tour; here's how to save money and make memories that will last a lifetime.
Best place for sunset and sunrise?
If you're only going to be there once; you don't want to miss the sunset or find you're fighting for camera space.
Lots of tour companies run trips but check where they drop you to watch this magical moment as some 'viewing' areas can get pretty crowded with coach loads that can somewhat spoil the moment.
Check the viewing spots  and worth checking reviews on places like TripAdvisor from fellow travellers for their experience and recommendations.
One thing you can't save on is the ticket price into the Uluru-Kata Tjuta National Park  You'll pay $25 Australian dollars each but your ticket lasts three days.
And for an alternative view, take a walk to Imalung Lookout.  It's in the centre of Ayers Rock Resort, a short walk from most of the apartments, and because it's outside the popular park viewing areas you may get the view all to yourself.
Tour tips in Uluru
AAT Kings do the big coach trip thing to Uluru.  They come with fancy prices and within seconds of the sun going down most are revving up the engines and heading off, whereas smaller companies like the Rock Tour that I went on, hang around, cook dinner from the back of the truck and don't leave until the stars are out.
Save on supplies
Prices get super expensive the nearer you get to Ayers Rock Resort so if you're driving from Alice Springs, like we did, stock up on beers at Curtin Springs
Once you hit Ayers Rock Resort; there's no shortage of restaurants but they're not cheap so save money and stock up on snacks at its one and only supermarket.
Cheap sleeps
One company owns all the accommodation which means it can be tough to find a cheap deal.
Go for Ayers Rock Campground to save on cash or book a dorm bed at the Outback Pioneer Hotel & Lodge   for around £30 a night. Means big savings as double rooms in the 'hotel' part go for close to £200 a night, and let's face it, if you're going to be up in the wee small hours to see the sunrise, to my mind there's no point paying for five star luxury.   But for the ultimate sleepover, nothing beats a swag under the stars for that a once in a lifetime experience.
For more money saving advice why not subscribe to my email newsletter.